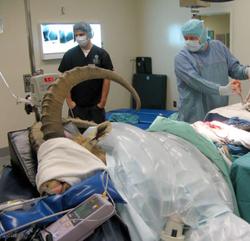 Challenges Facing Zoo Veterinarians
Unlike human patients, zoo animals and wildlife can't ask for help. They can't tell us where it hurts. They can't describe their pain and discomfort. And they have natural instincts to hide symptoms of distress.
For hundreds of years and at a snail's pace, scientists have been on the trail, so to speak, of uncovering those symptoms and trying to improve the quality of life of zoo animals and wildlife all over the world.
But why is it taking so long to figure out these ailments and get solutions? Like any scientific dilemma, it takes time and money to get answers. Fortunately, there have been pioneers in zoological medicine who have opened the door, and research studies are underway making advancements to help keep zoo animals and wildlife on our planet. But the fact is, saving people, domestic animals, and the earth has rightfully overshadowed the focus on zoo animal health.
Zoo and wildlife veterinarians work with all kinds of animals and know when something's wrong.  It's an awful feeling not knowing the best way to cure an infection, treat an illness or disease, or soothe an animal in distress.  As a result, zoo and wildlife veterinarians have taken it upon themselves by starting the Wild Animal Health Fund. By solving the unknowns, zoo and wildlife veterinarians have better chances of eliminating diseases, finding cures, and advancing techniques to give these animals live long, healthy lives on our precious planet.
Animals can't ask for help. That's why we're here.
The Wild Animal Health Fund advocates for the injured, sick and dying animals all around the world. With your help, we can make a difference.