The focus is on the animals
We're very different from other environment-focused conservation organizations. While other groups work to preserve and protect natural habitats, The Wild Animal Health Fund focuses on the animals themselves — everything from tiny tree frogs to humpback whales.
The Wild Animal Health Fund is not your typical conservation effort. We are the ONLY wild animal health program solely dedicated to funding professional veterinary studies to improve the health of zoo animals and wildlife.
We are one of just a few resources in the entire world for zoo and wild animal health researchers.  View this video to hear why research is important from the veterinarians themselves.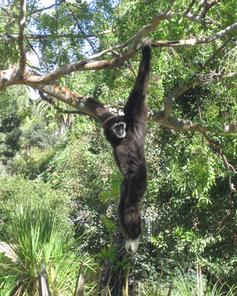 It's a monkey way of life - let's keep it that​ way!
There is no other conservation program on the planet like The Wild Animal Health Fund.  As a program of the American Association of Zoo Veterinarians (AAZV) — a trusted not-for-profit founded in 1946. The Fund is focused solely on providing grants for animal health research and studies conducted by veterinary professionals for the benefit of zoo animals and wildlife.
Help the veterinary scientists worldwide make a difference for the animals. Donate today!
Because the Wild Animal Health Fund is a new program within the American Association of Zoo Veterinarians (AAZV) and a large portion of our non-profit revenue is from the professional zoo and wildlife veterinarians, who are our members, we are not rated by Charity Navigator or BBB Give.org at this time.
In the meantime, the Wild Animal Health Fund is a GuideStar Gold Participant. We have this seal of approval because we publicly provide transparent information about our mission, legitimacy, impact, reputation, finances, governance and so much more. GuideStar is a complete source of information about U.S. charities. Please feel free to visit the www.GuideStar.org website.
For over 70 years, AAZV has played a role in nearly every wildlife medicine breakthrough to prevent diseases, enhance treatments and provide solutions. With over 1100 members worldwide, we work in clinical zoo medical practices, specialty animal health laboratories, pharmaceutical companies, and a wide range of government and wildlife agencies. We are scientists who are passionate about helping the animals and making a difference in their lives, and we're serious about contributing what we can to the health of our planet.
Help us take care of the animals.  You can't actually touch the animals, but you can make their lives better by supporting the good work of veterinary scientists worldwide.  Donate today!
---
Financial Information
For the most recent financial information, including IRS 990, please visit our GuideStar record by clicking on the GuideStar icon above.
Wild Animal Health Fund FY2018 Annual Report