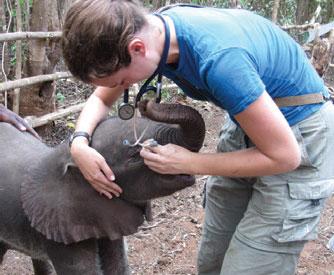 Ways to help wild animals stay healthy
You can use your talents and hobbies in ways to help wild animals.  There are so many fundraising activities to participate in for good causes like Wild Animal Health Fund. Check out the ideas below.
It's even possible that you come up with ways to help wild animals all on your own.  Contact us to discuss those opportunities.
If you need to learn a little more about the Wild Animal Health Fund before you fundraise for us, you should watch the video we created on why research is important.
Last but not least, you give $10 or more because that earnest contribution goes a long way in helping us optimize the health, welfare, and conservation of zoo animals and wildlife worldwide, and give them a better quality of life they deserve. 
There are so many ways to help.
Small Change, big changes
Make a Difference Without Breaking the Bank
The RoundUp App allows you to automatically donate the change from your credit or debit card transactions to support the Wild Animal Health Fund.
Once you create your account, you do not need to use the app while making a purchase.  Just swipe your card as usual.
You are in complete control and can cap your maximum monthly donation if desired.
Round Up & Donate Your Change
One of a kind purchases to support animal health:
Social Media: Follow us on Facebook and Twitter
Thank you for helping us fund critical research to improve the health and well-being of wild animals everywhere.
If you would like to stay informed, please enter your name and email address below.