Creating change with research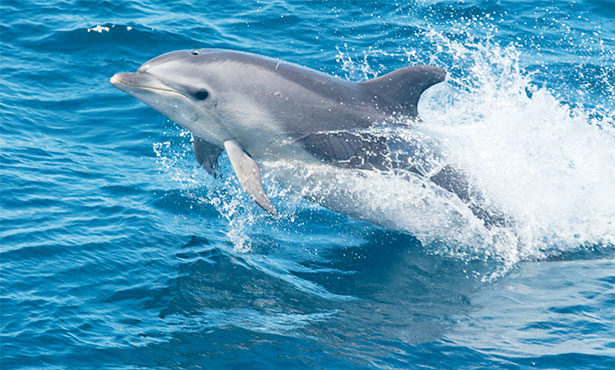 What makes a virus lethal to marine mammals?
For years, scientists have known of devastating disease outbreaks in marine mammals worldwide. One group of viruses called morbilliviruses have caused particular problems in dolphins and seals. No one knows why some viruses are more of a problem than others. If this were known, the information would help reduce the impact of the disease. Furthermore, it could lead to effective treatments also. Recent work on these viruses has revealed a critical finding that will help. And it is all about receptors. Molecular receptors in the host's tissues "receive" the virus which can lead to disease. The presence of certain molecular receptors is responsible for determining the course of the disease. The recent news is about two particular receptors. They bear the interesting names "SLAM" and "Nectin-4." These two receptors are now known to be keys to understanding the disease process caused by morbilliviruses in other species. 

Researchers propose to put this knowledge about receptors to work. They want to apply this to dolphin and seal morbillivirus disease. Studying natural infection in a controlled environment is just not possible in wildlife. So, the researchers plan to study the disease process using tissues and molecular techniques. This project will help unravel the mystery of this disease process in dolphins and seals. It will also advance the study of other viral diseases in marine mammals. With your support, science can gain the upper hand on these diseases. We want to reduce the impact of disease outbreaks. That is what these wildlife health studies strive to do, and we invite you to be a part of it.
The continued search for knowledge will ensure extinction is stopped in its tracks.
These are the 2017 approved and funded projects of the Wild Animal Health Fund.
Development and application of novel tools to assess the threat of tuberculosis in African Rhinoceros (Diceros bicornis, Ceratotherium simum)
P.I. Josephine Chileshe, MSc, BSc (Hons)
Co-P.I. Michele Miller, MPH, DVM, MS, PhD
Pilot study for the establishment of reference values for protein capillary zone electrophoresis in tortoises and turtles
P.I. Rachel Marschang, PD Dr. med. vet., Dipl ECZM (Herpetology)
Co-P.I. Anke Stöhr, med. vet., ZB Reptilien
Investigating aspects of chelonid herpesvirus 5 in green and loggerhead sea turtles
P.I. Annie Page-Karjian, DVM, PhD
Cardiac disease in Western lowland gorillas (Gorilla gorilla gorilla): Comparative assessment of B-type naturiuretic peptides from urine, capillary serum, and venous serum samples
P.I. Victoria Clyde, DVM
Co-P.I. Taylor Yaw, DVM
Nutrient analysis of whole fish for zoo animal nutrition and its changes with different thawing methods during a storage time of six months
P.I. Annette Liesegang, Dr. med. vet., Dipl ECVCN
Co-P.I. Christian Wenker, Dr. med. vet., Dipl ECZM
Validating dried blood spot cards to measure persistent organic pollutants in grey seals (Halichoerus grypus): A new tool for wildlife health assessments.
P.I. Michael Levin, PhD
Co-P.I. Jen Flowers, DVM, MS, Dipl ACZM
An In-Depth Assessment of the Vitamin D and Calcium Status of Captive Asian Elephants in a Northern Temperate Climate
P.I. Sara Childs-Sanford, DVM, MS, Dipl ACZM
Co-P.I. Joseph Wakshlag, DVM, PhD, Dipl ACVN, DACSMR
Sponsored by Mazuri Exotic Animal Nutrition, Land O'Lakes, Inc.
Hereby named "Mazuri Grant" of the 2017 AAZV Research Grant Program
Pharmacokinetics of imidocarb dipropionate following a single intramuscular injection in white-tailed deer Odocoileus virginianus
P.I. Ellie Milnes, MA, VetMB, MANZCVS
Co-P.I. Pauline Delnatte, DVM, IPSAV, DVSc, DACZM
Investigating the early and late infection events in the pathogenesis of Dolphin Morbillivirus and Phocine Distemper Virus in dolphins and pinnipeds and their association with SLAM and Nectin-4 receptors
P.I. Michael Kevin Keel, DVM, PhD, DACVP
Co-P.I. Omar Gonzales Viera, DVM, MSc
Assessment of productivity of topically applied novel vaccines against rabies in bats
P.I. Jorge E. Osorio, DVM, MS, PhD
Co-P.I. Tonie E. Rocke, PhD
Click Donate to support more discoveries!
Animals can't ask for help. That's why we're here.
The Wild Animal Health Fund advocates for the injured, sick and dying animals all around the world. With your help, we can make a difference.
We want to keep you informed. Enter your email address below.