Creating change with research
The world is currently facing a "Pangolin Crisis".
The African white-bellied tree pangolin (Phataginus tricuspis) exploitation for bushmeat and traditional medicine has caused 97% reduction in wild population. The drastic decline is affecting wild population demographics because larger, potentially older animals, are hunted and removed from the wild. But, the full extent of this change cannot be determined because there are no criteria to determine age for African tree pangolin. Without the ability to determine age for pangolin, we also cannot provide appropriate care for individuals that have been rescued from the wild or confiscated.
Veterinarians are uniquely positioned to develop guidelines to estimate pangolin age by using diagnostic tools routinely used in veterinary medicine. In this granted study, we propose new research to understand growth and development of the African tree pangolin by using health data including radiographs (x-ray imaging) and laboratory diagnostics (blood work) combined with fecal hormone (thyroid function) and body size assessments. We will combine these methods to distinguish juvenile from adult life stage and develop a guideline for age estimates for all pangolin of this species.
The overall goal is to develop diagnostic tools to characterize the African tree pangolin growth and development and to identify implications for species conservation and health assessments.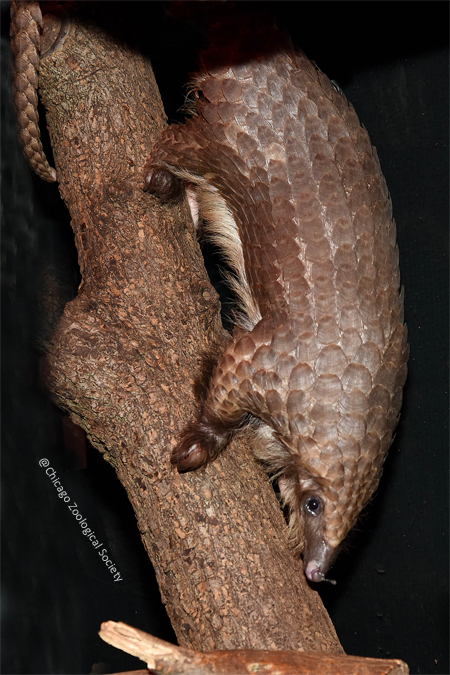 To See Prior Years Studies
This link will take you to the AAZV.org website to view the prior year's research projects. 
Continuing to search for knowledge will stop extinction in its tracks.
Below you will find the 2018 approved and funded projects of the Wild Animal Health Fund.
Cutaneous Nannizziopsis guarroi in Companion Lizards: An Epidemiologic Approach Using Quantitative PCR to Describe the Effect of Age, Species, Sex, and Location on Disease
PI.: Krista Keller, DVM, Dipl. ACZM
Co-P.I. Matt Allender, DVM, MS, Dipl. ACZM, PhD
Location: University of Illinois College of Veterinary Medicine, Urbana, Illinois
Developing diagnostic tools to characterize African tree pangolin growth and development, implications for species conservation and health assessments
PI.: Copper Aitken-Palmer, DVM, PhD, Dipl. ACZM
Co-P.I.: Michael Adkesson, DVM, Dipl. ACZM, Dipl. ECZM
Co-P.I.: Jimmy Johnson, DVM, MS, Dipl. ACZM
Location: Chicago Zoological Society & Columbus Zoo
Improving the Management of Chronic Respiratory Disease in Captive Bornean Orangutans (Pongo Pygmaeus) Utilizing Cystic Fibrosis Therapies In an Orangutan Rehabilitation Program In East Kalimantan, Indonesia
PI.: Nancy Lung, VMD, MS
Co-P.I.: Agnes Pratamiutaminingsih, DVM
Co-P.I.: Fransiska Sulistyo, DVM, MVS
Co-P.I.: Jennifer Taylor-Cousar, MD, MSCS
Location: The Bornean Orangutan Survival Foundation, Borneo
Investigation of the use of biochemical markers for cardiac disease in marine mammals
PI.: Melissa Joblon, DVM
Co-P.I.: Jennifer Flower, DVM, MS, Dipl. ACZM
Location: Mystic Aquarium, Connecticut
Immunogenicity of an orally administered microencapsulated anthrax vaccine for use in wildlife
PI.: Jamie Benn, PhD Candidate
Co-P.I.: Walter Cook, DVM, PhD, Dipl. ACVPM
Co-P.I.: Allison Rice-Ficht, PhD
Location: Texas A&M University, College of Veterinary Medicine
Disease risk assessment of the EEP (European Endangered Species Programme) Pink Pigeon (Nesoenas mayeri) population for reintroduction to Mauritius
PI.: Sara Shopland, BVSc, Dipl. ECZM
Co-P.I.: Michelle Barrows, BVSc, Dipl. ECZM
Location: Various zoos throughout Europe; Wild Place Project, Bristol, England; Durrell Wildlife Conservation Trust, Jersey
Surveying native wildlife for a newly-discovered lethal pathogen carried by invasive cane toads in Australia
PI.: Catherin Shilton, DVM, DVSc
Co-P.I.: Gregory Brown, PhD, MSc
Location: University of Sydney's Tropical Ecology Research Facility, Fogg Dam, Australia (Northern Territory)
Identification and Characterization of Antibiotic Resistance Genes in the Microbiome of Wild Seabirds in two Oceanic Islands, Brazil
PI.: Ana C. Ewbank, DVM, MSc, PhD candidate
Co-P.I.: José Luiz Catão-Dias, DVM, MSc, PhD
Location: University of São Paulo, Brazil; Institute for Agricultural and Food Research and Technology, Madrid, Spain
Comparison of lactate measurements in Quaker parrots (Myopsitta monachus) via three different analyzers
PI.: Brian Jochems, DVM
Co-P.I.: J. Jill Heatley, DVM, MS, Dipl. ACZM, Dipl. AVBP
Co-P.I.: Karen Russell, DVM, PhD, Dipl. ACVP
Location: Texas A&M AgriLife Research, College Station, Texas
Health status and welfare of translocated Bolivian river dolphins (Inia boliviensis) experiencing high anthropogenic disturbances
PI.: Ellen Bronson, med. vet., Dipl. ACZM
Co-P.I.: Sharon Deem, DVM, PhD, Dipl. ACZM
Co-P.I.: Paulo Colchao Claux, BMVZ
Co-P.I.: Claudia Venegas Cuzmar, Lic
Location: Maryland Zoo; La Pistola Lake, Bolivia
West Nile virus seroconversion in Loggerhead Shrike after vaccination with a killed virus vaccine with application for developing a vaccine protocol for captive-bred and wild-caught shrike
PI.: Kerry Schutten, DVM
Co-P.I.: Amy Chabot, PhD
Co-P.I.: Hazel Wheeler, MSc
Location: The African Lion Safari, Hamilton, Ontario, Canada
The relationship between microbiomes, pathogens, and host condition in free-ranging African buffalo (Syncerus caffer)
PI.: Claire Couch, PhD candidate
Co-P.I.: Brianna Beechler, PhD, DVM
Location: Oregon State University, Corvallis, Oregon
The development and comparison of a portable novel tuberculosis RT-qPCR assay to the new generation Xpert MTB/RIF Ultra assay as a point of care diagnostic test for tuberculosis in African Elephants (Loxodonta africana)
PI.: Wynand Goosen, MSc, PhD
Co-P.I.: Michele Miller, DVM, MS, PhD, Dipl. ECZM
Location: Kruger National Park, Stellenbosch University, Cape Town, South Africa
Click Donate to support more discoveries!
Animals can't ask for help. That's why we're here.
The Wild Animal Health Fund advocates for the injured, sick and dying animals all around the world. With your help, we can make a difference.