Creating change with research
The world is currently facing a "Pangolin Crisis".
The African white-bellied tree pangolin (Phataginus tricuspis) exploitation for bushmeat and traditional medicine has caused 97% reduction in the wild population. The drastic decline is affecting wild population demographics because larger, potentially older animals, are hunted and removed from the wild. But, the full extent of this change cannot be determined because there are no criteria to determine the age for African tree pangolin. Without the ability to determine the age for pangolin, we also cannot provide appropriate care for individuals that have been rescued from the wild or confiscated.
Veterinarians are uniquely positioned to develop guidelines to estimate pangolin age by using diagnostic tools routinely used in veterinary medicine. In this granted study, we propose new research to understand the growth and development of the African tree pangolin by using health data including radiographs (x-ray imaging) and laboratory diagnostics (blood work) combined with fecal hormone (thyroid function) and body size assessments. We will combine these methods to distinguish juvenile from the adult life stage and develop a guideline for age estimates for all pangolin of this species.
The overall goal is to develop diagnostic tools to characterize the African tree pangolin growth and development and to identify implications for species conservation and health assessments.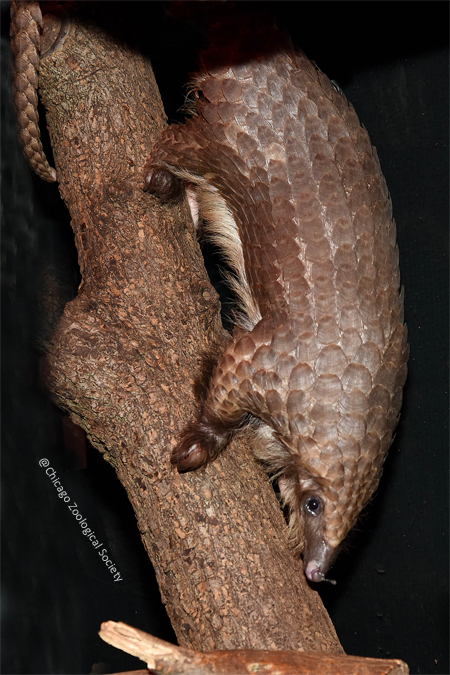 To See Prior Years Studies
This link will take you to the AAZV.org website to view the prior year's research projects. 
Continuing to search for knowledge will stop extinction in its tracks.
Below you will find the 2019 approved and funded projects of the Wild Animal Health Fund.
Investigating the genomic diversity of Ophidiomyces ophiodiicola, a fungal pathogen infecting free-ranging and managed snake populations
P.I.: Matthew Allender, DVM, Dipl. ACZM
Co-P.I.: Ellen Haynes, DVM, PhD
University of Illinois, Urbana-Champaign
Characterization of Fungal Conidial Adherence to Extracellular Matrix Components and Its Association with Fungal Secreted Proteases in Bat White-nose Syndrome
P.I. Michael Kevin Keel, DVM, PhD, DACVP
Co-P.I. Piyaporn Eiamcharoen, DVM
University of California Davis, School of Veterinary Medicine
Assessing the health of the critically endangered Eastern Santa Cruz Galapagos tortoise (Chelonoidis donfaustoi)
P.I.: Sharon L. Deem, DVM, PhD, DACZM
Co-P.I.: Ainoa Nieto Claudin, DVM, PhD; Kathleen Apakupakul, MS, MA.
Santa Cruz Island, Galapagos Islands, Ecuador; Animal Health Investigation Dept., Madrid, Spain
Pharmacokinetics of trazodonein the domestic goat (Capra hircus) as a model for wild ruminants
P.I.: Marion Desmarchelier, DVM, Dipl. ACZM, dipl. ECZM
Co-P.I.: Francis Beaudry, PhD
University of Montreal; Granby Zoo, QC
Comparison of fatty acid profiles and adipokine levels between a wild population and a captive population of critically endangered Vancouver Island Marmot (Marmota vancouverensis)
P.I.: Jessica Aymen, DVM, IPSAV; DVSc
Co-P.I.: Pauline Delnatte, DVM, IPSAV, DVSc, Dipl. ACZM, Dipl. ECZM
Toronto Zoo; University of Guelph; Tony Barrett Mt Washington Breeding Ctr.; Calgary Zoo; Marmot Recovery Foundation, BC, Canada
Investigating an alternative to ultra-potent opioid combinations for anesthesia of Przewalski's horses using butorphanol-azaparone-medetomidine-ketamine
P.I.: Ellie Milnes, MA, VetMB, DVSc
Co-P.I.: Christopher Dutton BSc, BVSc, MSc, DipACZM, DipECZM (ZHM)
Toronto Zoo, Ontario, Canada
Pharmacokinetics of a Single Oral Dose of Phenylbutazone in Southern White Rhinoceros (Ceratotherium simum simum)
P.I.: Emma Houck, DVM
Co-P.I.: Katie Delk, DVM, DACZM; Mark Papich DVM, Dipl ACVCP
North Carolina State University College of Veterinary Medicine, North Carolina Zoo
Nutritional Evaluation of Native Plants of Papua New Guinea Consumed by Matschie's Tree Kangaroo (Dendrolagus matschiei)
P.I.: Ellen Dierenfeld, PhD
Co-P.I.: Marisa Bezjian, DVM; Lisa Dabek, PhD
Papua New Guinea; Zooquarius, NY; Washington State University, WA
Rapid mycobacterial DNA detection and the enhanced growth of tuberculosis from African rhinoceros (Diceros bicornis, Ceratotherium simum) bronchioalveolar lavage and tissue samples
P.I.: Wynand J. Goosen, PhD
Co-P.I.: Michele Miller, DVM, Dipl ECZM, PhD
University of Stellenbosch, So. Africa
Holistic Evaluation of Leatherback Health Including Nesting Females, Nests, Embryos, and Dead in Nest Hatchlings in St. Croix, USVI
P.I.: Kimberly M. Stewart, DVM, PhD
Co-P.I.: Michelle Dennis, DVM, PhD, Dipl ACVP
St. Croix, US Virgin Islands; Ross University, University of Miami, FL; Mystic Aquarium, CT; University of Penn, PA
Investigation into the physiological response of flapper skate (Dipturus intermedius) to capture and surgical implantation of acoustic tags in Scotland
P.I.: Georgina Cole, BVetMed MSc MRCVS
Co-P.I.: Simon Girling, BVMS, Dipl ECZM, FRCVS
Edinburgh Zoo, UK
Comprehensive Health Assessment Including Multi-Pathogen Surveillance in a Population of the Federally Threatened Eastern Massasauga Rattlesnake (Sistrurus catenatus)
P.I.: Laura Adamovicz, DVM, PhD
Co-P.I.: Matthew C. Allender, DVM, MS, PhD, Dipl. ACZM
University of Illinois, Urbana-Champaign
Influence of herd size and animal transfers in shedding frequency of elephant endotheliotropic herpesvirus in Asian elephants (Elephas maximus)
P.I.: Jennifer D'Agostino, DVM, Dipl. ACZM
Co-P.I.: Erin Latimer, MS
Oklahoma City Zoo and Botanical Garden
Prevalence and magnitude of plastic ingestion (macro, meso and microplastics) and exposure to plasticizers (phthalates) in seabirds in southeast Brazil
P.I.: Ralph E. T. Vanstreels, DVM, PhD
Co-P.I.: Luciana Gallo, PhD
Instituto de Pesquisa e Reabilitação de Animais Marinhos
Click Donate to support more discoveries!
Animals can't ask for help. That's why we're here.
The Wild Animal Health Fund advocates for the injured, sick and dying animals all around the world. With your help, we can make a difference.