National Zoo Awareness Day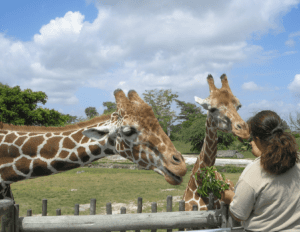 Zoos are often at the heart of wild animal conservation. They are a safe haven for endangered animals and are an educational experience for all ages. No matter what species you are, the zoo is a great place to be!
August 31st is National Zoo Awareness Day. On this day, animal lovers come together to recognize the hard work of wildlife veterinarians and caretakers! Operating a zoo is not an easy task, and certainly not everyone can do it. Many talented individuals are behind the scenes to make sure things are running smoothly, that animals are well taken care of, and that people are happy.
What jobs do zoos offer?
There are a variety of jobs available at zoos all around the globe. Zoos are not only in need of keepers and veterinarians, but security, educators, and horticulturists. In addition to this, there are many wildlife caretakers, food service workers, and business operation employees. Everyone works together to create a great experience for animals and guests.
Why are zoos important?
Endangered animals thrive under managed care. Zoos are integral for species management and repopulation. They help preserve biodiversity, which is essential for ecosystems to function properly.
Zoos are great places for research. They help with conservation efforts all around the world. Furthermore, animal health issues are solved in a monitored environment under the care of professionals. The health of animals is essential to preserve species and maintain biodiversity. It gives us insight into how to treat and care for the animals that share this Earth with us. The Wild Animal Health Fund, an program of the American Association of Zoo Veterinarians, is dedicated to advocating for animal health through critical research. 
On National Zoo Awareness Day, we are thankful to all zoo lovers, caretakers, and animals!
Want to help support animal health?